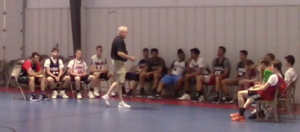 At the AFES gym in Fort Dodge I'm conducting Wednesday Night Live, an intense, college like practice for High School and College players. In order to get off to a positive start I always share my expectations with the group.
In the video you will pick up on the most important characteristics these players must have to MAXIMIZE their experience on these eight Wednesday nights.
If you think you have an idea of what I place importance in with these workouts, you will be surprised.
Enjoy the Video, Click Here
Randy Brown, AFES Skill Instructor